CPMS Neighbourhood Elderly Centre of Grace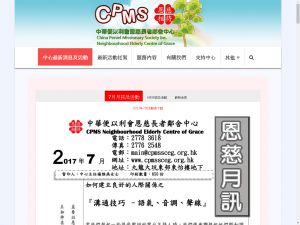 Website Screen Capture of CPMS Neighbourhood Elderly Centre of Grace (http://www.cpmssceg.org.hk)
Tel : 27783618
Fax : 27762548
Address : G/F, Tung Yi House, Tai Hang Tung Estate, KLN
Web Address : http://www.cpmssceg.org.hk
E-mail Address : No related information
Nonprofit organization

Charitable institutions and trusts of a public character, which are exempt from tax under section 88 of the Inland Revenue Ordinance, are Nonprofit organizations.
Introduction
(English version is not available)
本中心成立於1982年,原名為「石硤尾老人中心」,經費由社會福利署撥款資助。會址位於石硤尾邨,期後於2003年遷入大坑東邨,當時機構認為中心會址已遷至大坑東邨,不宜沿用舊中心名,以免引起混淆。經討論後,中心決定以聖經以弗所書內一段經文中的「恩慈」為中心的新名稱﹕「並要以恩慈相待,存憐憫的心,彼此饒恕,正如神在基督裡饒恕了您們一樣。」,繼續為長者及社區人士服務。為配合政府所進行的長者社區支援服務重整,本中心於2014年10月轉型為長者鄰舍中心,於2015年3月25日正式更改中心名稱為「恩慈長者鄰舍中心」。
---
Aim
By following "Respect and love the elderly", to appreciate the achievements the elderly made when they were young, and care the elderly with the love of God. Encourage the elderly to join activities and catch up with the society.
---
Services
Service Brief:
- Providing Elderly Services

Service Scope:
1. Educational and developmental activities , including health education workshops, attending various kinds of exhibition;
2. Interest classes , such as smartphone and ipad application , word processing class , music and dance class;
3. Social and recreational activities , namely various kinds of competition , exercise groups ,light meal services;
4. Volunteer services , e.g. volunteers home visits and volunteer community training programmes
5. Counseling services and therapeutic groups, conducting by social workers.
---
Location
Report a problem
Reporting issues when they happen helps make HKNGO better.