Hong Kong Buddhist Association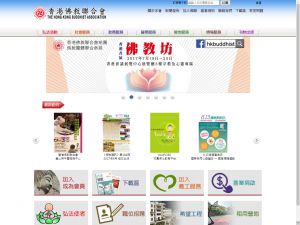 Website Screen Capture of Hong Kong Buddhist Association (http://www.hkbuddhist.org)
Tel : 25749371
Fax : 28340789
Address : 1/F, 338 Lockhart Road, Wan Chai, HK
Web Address : http://www.hkbuddhist.org
E-mail Address : No related information
Nonprofit organization

Charitable institutions and trusts of a public character, which are exempt from tax under section 88 of the Inland Revenue Ordinance, are Nonprofit organizations.
Introduction
(English version is not available)
香港佛教聯合會成立於1945年,由比丘、比丘尼、男居士、女居士等佛教四眾共同組成,在70年的成長歷程中,得蒙四眾弟子鼎力護持,已發展成為香港最具領導地位、最有代表性及最大規模的佛教團體。本會致力倡弘佛教,推動慈善事業,福利大眾,目前開辦有中西醫療、學校、安老院、長者中心、青少年中心、活動中心、墳場等四十多個會屬單位。
---
Aim
1. Spread the Buddha's teaching;
2. Provide social services and help disadvantaged groups;
3. Educate the young to make contribution to the society;
4. Consolidate unity and cooperation among Buddhist groups;
5. Promote communication among different religions, advance freedom of religion;
6. Enhance social harmony, maintain world peace.
---
Services
Service Brief:
- Providing Elderly Services
- Providing Children & Youth Services
- Providing Rehabilitation Services
- Providing Other Services:
   教育、宗教及墓地
Service Scope:
不適用
---
Location
Report a problem
Reporting issues when they happen helps make HKNGO better.