Enlighten Hong Kong Limited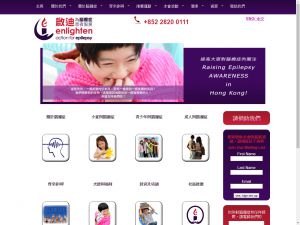 Website Screen Capture of Enlighten Hong Kong Limited (http://www.enlightenhk.org)
Tel : 28200111
Fax : 28200113
Address : 12/F, Kuo Hwa Building, Nos. 340-342 Hennessy Road, Wan Chai HK
Web Address : http://www.enlightenhk.org
E-mail Address : No related information
Nonprofit organization

Charitable institutions and trusts of a public character, which are exempt from tax under section 88 of the Inland Revenue Ordinance, are Nonprofit organizations.
Introduction
No related information
---
Aim
Widen opportunities and choices for people affected by epilepsy and to raise awareness of epilepsy issues in all sectors of the community.
1.To offer free of charge personalised services to people with epilepsy, their families, carers, friends and colleagues;
2.To provide accurate and up-to-date bilingual advice and information to all who are affected by epilepsy;
3.To promote increased public understanding of epilepsy and its impact on the quality of life through the provision of qualified education and training as well as community education programmes;
4.To cooperate closely with similar organisations in Hong Kong and elsewhere in the world to ensure equal opportunities and social inclusion for people with epilepsy.
---
Services
Service Brief:
- Providing Rehabilitation Services
- Providing Family Services
- Providing Community Development Services

Service Scope:
Our Services:
1. Community Support: One-on-one counselling and support; Support group and networking gatherings;
2. Education & Training: Interactive sessions and training programs to:Provide up-to-date epilepsy information to eliminate the stigma; Demonstrate first aid to epileptic seizures; Help eradicate the fear associated with seeing a seizure;
3. Awareness: To reduce stigma, public discrimination; To encourage respect and understanding; To increase public knowledge about epilepsy; To promote equal opportunity.
---
Location
Report a problem
Reporting issues when they happen helps make HKNGO better.