The Hong Kong Girl Guides Association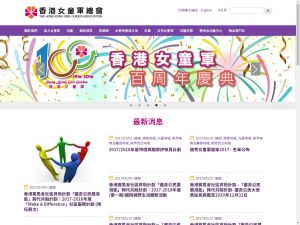 Website Screen Capture of The Hong Kong Girl Guides Association (http://www.hkgga.org.hk)
Tel : 23325523
Fax : 27826466
Address : 8 Gascoigne Road, Yau Ma Tei, KLN
Web Address : http://www.hkgga.org.hk
E-mail Address : No related information
Nonprofit organization

Charitable institutions and trusts of a public character, which are exempt from tax under section 88 of the Inland Revenue Ordinance, are Nonprofit organizations.
Introduction
No related information
---
Aim
Mission: To enable girls and young women to develop their fullest potential as responsible citizens of the world
Vision: To be the leading provider of quality non formal educational leadership programmes, facilitated by passionate leaders, who empower every girl and young women experiencing Guiding to positively change her life and influence the lives of others.
---
Services
Service Brief:
- Providing Children & Youth Services

Service Scope:
Programmes in Hong Kong for girls are delivered through different "sections" accordingly to their age groups.
1. Brownie Guide (aged 6 - 12)
2. Girl Guide (aged 10 - 18)
3. Ranger Guide
­ Rangers (aged 15 - 23)
­ Sea Rangers (aged 15 - 23)
­ Air Rangers (aged 17 - 23)
4. Guiders (aged 21 or above)
5. Happy Bee and Golden Guide are the community service project for those aged 4 - 6 and 55 above respectively.
To develop the whole person, our 8 Point Programme covers mind, character, service, physical fitness, enjoyment of the out of doors, creative ability, homecraft skills and relationships with people.
---
Location
Report a problem
Reporting issues when they happen helps make HKNGO better.