Hong Kong Federation of Women's Centres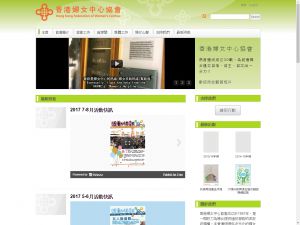 Website Screen Capture of Hong Kong Federation of Women's Centres (http://www.womencentre.org.hk)
Tel : 23866256
Fax : 27280617
Address : 305-309, Lai Lan House, Lai Kok Estate, Cheung Sha Wan, KLN
Web Address : http://www.womencentre.org.hk
E-mail Address : No related information
Nonprofit organization

Charitable institutions and trusts of a public character, which are exempt from tax under section 88 of the Inland Revenue Ordinance, are Nonprofit organizations.
Introduction
(English version is not available)
在20世紀70年代末,香港婦女協會(現已解散)的「反強姦運動」成功引起了公眾對當時傳媒處理性暴力受害者新聞的關注。及後,組成了婦女中心小組委員會;並於1981年5月5日開設一條處理公眾查詢的熱線,專線設在前市政局委員葉錫恩女士的辦公室內,由一群熱心義工負責接聽。1985年,婦女中心建址深水埗麗閣邨;1989年8月成為香港公益金成員機構。雖然仍隸屬於香港婦女協會,但婦女中心持續發展,並有獨立的執行委員會。1992年9月,婦女中心宣佈獨立並易名為「香港婦女中心協會」以邁向新的方向。1996年,香港婦女中心協會在大埔太和邨成立太和中心,擴展新界區的服務。香港婦女中心協會現時是香港社會服務聯會的會員機構,並於2002年取得聯合國經濟及社會理事會特別諮商成員地位。
---
Aim
Promote the rights and status of women.

Help women develop their individual potential.

Collaborate and co-ordinate with agencies and groups concerned with women's issues.

Advise decision-making bodies on the needs of women and the resources required to meet these needs effectively.

Pioneer the development of resources and services that are in the interest of women.
---
Services
Service Brief:
- Providing Family Services
- Providing Community Development Services

Service Scope:
Supportive Services:
Women's Helpline, Free Legal Advice Clinic, Case counselling and Self-help groups

Developmental Services:
Employment-related retraining and economic empowerment,
Health education and empowerment, Social participation, Continuing education and IT education, Community networking and inclusion, Volunteer development and Drop-in service

Advocacy Work:
Community education on women's rights, Self-help group development, Gender awareness training, Research and publication, Advocacy
---
Location
Report a problem
Reporting issues when they happen helps make HKNGO better.