Hong Kong Association of Gerontology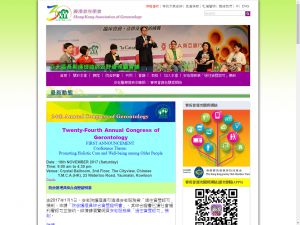 Website Screen Capture of Hong Kong Association of Gerontology (http://www.hkag.org)
Tel : 27755756
Fax : 27755586
Address : 1/F, Kimberley House, 35 Kimberley Road, Tsim Sha Tsui, KLN
Web Address : http://www.hkag.org
E-mail Address : No related information
Nonprofit organization

Charitable institutions and trusts of a public character, which are exempt from tax under section 88 of the Inland Revenue Ordinance, are Nonprofit organizations.
Introduction
The Hong Kong Association of Gerontology (Association), a member of International Association of Gerontology since 1989, was founded in 1986 by a group of professionals including geriatricians, nurses, social workers, physiotherapists, occupational therapists, clinical psychologists and academics. It was established with the aim of promoting the discipline of gerontology and improving the quality of age care services in Hong Kong.
---
Aim
To promote the advancement and service quality of health care, social services and long-term care for older people in Hong Kong; and the furtherance of studies and education in gerontology.
---
Services
Service Brief:
- Providing Elderly Services

Service Scope:
1. Hong Kong Institute of Gerontology - Wofoo Training Centre of Gerontology: the Institute set up in 2000 that aims at providing training and education in gerontology to enhance the quality of elderly services.

2. Residential Aged Care Accreditation Scheme: the Scheme set up in 2005 that is a voluntary schedule to assess the service standards of residential aged care homes. We hope that the Scheme can enhance the services quality and safety standards of the homes.
---
Location
Report a problem
Reporting issues when they happen helps make HKNGO better.