Against Child Abuse Limited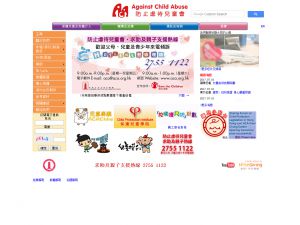 Website Screen Capture of Against Child Abuse Limited (http://www.aca.org.hk)
Tel : 35425722
Fax : 35425709
Address : 13/F, Corn Yan Centre 3 Jupiter Street, North Point, Hong Kong North Point, HK
Web Address : http://www.aca.org.hk
E-mail Address : No related information
Nonprofit organization

Charitable institutions and trusts of a public character, which are exempt from tax under section 88 of the Inland Revenue Ordinance, are Nonprofit organizations.
Introduction
No related information
---
Aim
To promote a caring and non-violent environment for the optimal growth and development of our children.
---
Services
Service Brief:
- Providing Children & Youth Services
- Providing Family Services
- Providing Community Development Services

Service Scope:
Child protection services ( hotline, investigation of suspected child abuse case, counseling, groupwork, volunteering, public education and advocacy )
---
Location
Report a problem
Reporting issues when they happen helps make HKNGO better.