Asbury Methodist Social Service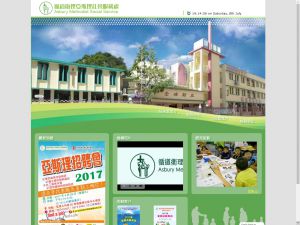 Website Screen Capture of Asbury Methodist Social Service (http://www.asbury.org.hk)
Tel : 24201073
Fax : 24270925
Address : 1 Sheung Kok Street, Tai Wo Hau, Kwai Tsing, NT
Web Address : http://www.asbury.org.hk
E-mail Address : No related information
Nonprofit organization

Charitable institutions and trusts of a public character, which are exempt from tax under section 88 of the Inland Revenue Ordinance, are Nonprofit organizations.
Introduction
(English version is not available)
早於一九五九年,循道衛理聯合教會為了安置荃灣海邊的木屋居民,因而興建了亞斯理村。亞斯理社區中心於一九六零年成立,提供醫療、教育及社會服務予當時的亞斯理村村民。六零年代中期,大窩口邨及葵涌邨分別建成,服務更推廣至這兩個邨的邨民。

早期的服務由教會及熱心人士提供,七零年代開始聘請專業社工人員工作,並於一九七九年八月成立老人社交中心,一年後開展「老人保健計劃」及學校社會工作。因應服務的需要,中心於一九九零年十月開辦「課餘託管服務」,並於一九九六年易名為循道衛理亞斯理社會服務處。二零零一年八月,服務處把服務延展至家庭,成立家庭成長及資源中心,為新移民、單親及危機家庭提供支援。
---
Aim
Practicing Christ's Serving spirit, we go into the community with love and passion, and build a harmonious society with them
---
Services
Service Brief:
- Providing Elderly Services
- Providing Children & Youth Services
- Providing Family Services
- Providing Community Development Services
- Providing Ethnic Minorities Services

Service Scope:
Asbury Methodist Social Service has been providing diversified services in Kwai Chung for over 50 years. Now, Asbury are operating the Social Centre for the Elderly, Integrated Children and Youth Service Centre, School social Division, Yat Kwai Integrated Service Centre, and Family Growth and Resource centre. In these centres, preventive, developmental as well as remedial services are provided to residents through a wide range of activities, so as to expand their mutual help power; explore their interests and
---
Location
Report a problem
Reporting issues when they happen helps make HKNGO better.