AVP HK Foundation Limited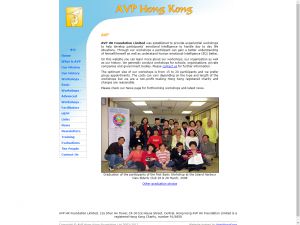 Website Screen Capture of AVP HK Foundation Limited (http://www.avphongkong.org/)
Tel : 25229968
Fax : 28104685
Address : 12a, Shun Ho Tower, 24-30 Ice House Street, Central, HK
Web Address : http://www.avphongkong.org/
E-mail Address : No related information
Nonprofit organization

Charitable institutions and trusts of a public character, which are exempt from tax under section 88 of the Inland Revenue Ordinance, are Nonprofit organizations.
Introduction
AVP HK Foundation Limited was established to provide experiential workshops to help develop participants' emotional intelligence to handle day to day life situations. Through our workshops a participant can gain a better understanding of himself/herself as well as understand human emotional intelligence (EQ) better.
---
Aim
Our Mission is to empower people to lead positive, productive individual and community lives through affirmation, respect for all, community building, co-operation, and trust. AVPHK's objective is to facilitate, through experiential workshops, acquisition of conflict resolution skills and promote peace.
---
Services
Service Brief:
- Providing Children & Youth Services
- Providing Family Services
- Providing Community Development Services

Service Scope:
Experiential and development programmes
---
Location
Report a problem
Reporting issues when they happen helps make HKNGO better.