CBN Hong Kong Limited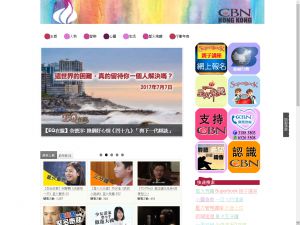 Website Screen Capture of CBN Hong Kong Limited (http://www.cbnhongkong.org)
Tel : 22340014
Fax : 25290014
Address : 7G, Reason Group Tower 403 Castle Road Kwai Hing NT
Web Address : http://www.cbnhongkong.org
E-mail Address : No related information
Nonprofit organization

Charitable institutions and trusts of a public character, which are exempt from tax under section 88 of the Inland Revenue Ordinance, are Nonprofit organizations.
Introduction
No related information
---
Aim
To make known the saving grace of God and the Good News of his son's sacrifice for the people of Hong Kong and to offer spiritual support to Hong Kong Christians, provide resources to churches, give counseling to the troubled and help to those in need.
---
Services
Service Brief:
- Providing Other Services:
   提供心靈輔導服務 Providing Spiritual Counseling Services
Service Scope:
- TV program production
- Counseling service
- Counseling training
- Counseling training in China
---
Location
Report a problem
Reporting issues when they happen helps make HKNGO better.