Chi Lin Nunnery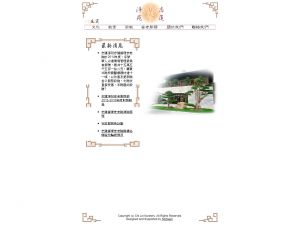 Website Screen Capture of Chi Lin Nunnery (http://www.chilineldser.org)
Tel : 23541853
Fax : 23231939
Address : 5 Chi Lin Drive, Diamond Hill, KLN
Web Address : http://www.chilineldser.org
E-mail Address : No related information
Nonprofit organization

Charitable institutions and trusts of a public character, which are exempt from tax under section 88 of the Inland Revenue Ordinance, are Nonprofit organizations.
Introduction
(English version is not available)
志蓮淨苑始創於1934年,創辦人葦庵法師本擬建造一所傳統式寺院以供僧眾清修,後因國內移民大量湧至,當時社會對福利服務需求甚為殷切,故決定暫時擱置建寺計劃,將原來的古老大屋改為佛殿,而致力於教育及福利服務。 首先在1948年開辦義學,為附近貧窮的失學兒童提供教育機會,繼而於1957年開辦非政府資助的不牟利慈幼院及安老院,收容無依無靠的孤兒及老人。
1980年代,社會經濟好轉,慈幼服務需求銳減,慈幼院逐告停辦,因香港人口不斷老化,淨苑便致力發展安老服務,並推廣佛教文化工作。
1991年,志蓮淨苑將原有之安老院重建為護理安老院,第一期工程於1993年底建成,設有宿位184個,第二期工程於1995年底完成,當時宿位為284個。而至1999年12月,宿位更增至318個。
---
Aim
Following the Buddha's spirit of benevolence,compassion, joy and equanimity, to provide religious, educational and welfare services for the people of Hong Kong.
---
Services
Service Brief:
- Providing Elderly Services

Service Scope:
Mainly to provide Elderly Services. Including : Chi Lin Care & Attention Home, Chi Lin Home for the Elderly, Chi Lin Day Care Centre for the Elderly, Chi Lin Medical Centre, Chi Lin Dental Clinic and Chi Lin Physiotherapy Centre.
---
Location
Report a problem
Reporting issues when they happen helps make HKNGO better.