Children's Cancer Foundation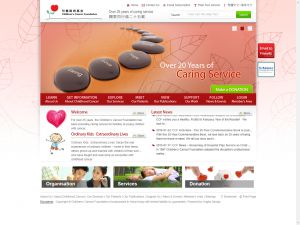 Website Screen Capture of Children's Cancer Foundation (http://www.ccf.org.hk)
Tel : 28152525
Fax : 28155511
Address : Room 702, Tung Ning Building, 125 Connaught Road Central, Sheung Wan, HK
Web Address : http://www.ccf.org.hk
E-mail Address : No related information
Nonprofit organization

Charitable institutions and trusts of a public character, which are exempt from tax under section 88 of the Inland Revenue Ordinance, are Nonprofit organizations.
Introduction
In 1989, when a small group of individuals met to discuss what could be done for children in Hong Kong who suffer from cancer, no one would have predicted that the Children's Cancer Foundation would grow into the driving force behind the fight against this life-threatening illness.

In these three short sections you can learn about how we came into being, the ongoing development of our services, and our plans for the future.
---
Aim
1. To improve the quality of life for young cancer patients and their families in caring for their physical, psychological and social well-being;
2. To help doctors improve the survival rate of children with cancer;
3. To assist major public hospitals in Hong Kong upgrade equipment and services in paediatric oncology.
---
Services
Service Brief:
- Providing Children & Youth Services
- Providing Rehabilitation Services
- Providing Family Services
- Providing Community Development Services

Service Scope:
The Children's Cancer Foundation provides professional and comprehensive psychosocial services for child cancer patients and their families. These include counselling, clinical psychology, hospital play, palliative and home care, long-term follow-up, respite care, occupational therapy, rehabilitation, pre-school playgroup, half-way homes as well as financial, social and educational support.

The Foundation also purchases state-of-the-art medical equipment for hospitals; provides funding for expensive diagnostic tests and new drugs to reduce patients'suffering
---
Location
Report a problem
Reporting issues when they happen helps make HKNGO better.