Chinese Rhenish Church Hong Kong Synod, Social Service Department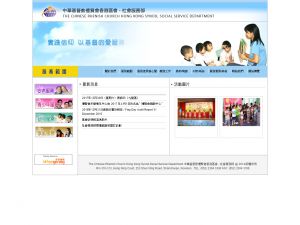 Website Screen Capture of Chinese Rhenish Church Hong Kong Synod, Social Service Department (http://www.ssd.rhenish.org)
Tel : 23043338
Fax : 23043188
Address : Room 310-313, Hang Ning Court, 253 Shun Ning Road, Sham Shui Po, KLN
Web Address : http://www.ssd.rhenish.org
E-mail Address : No related information
Nonprofit organization

Charitable institutions and trusts of a public character, which are exempt from tax under section 88 of the Inland Revenue Ordinance, are Nonprofit organizations.
Introduction
(English version is not available)
中華基督教禮賢會自1847年創立以來,一向以傳道、教育、福利工作服務社會,傳揚基督的愛。禮賢會香港區會所辦的福利服務始於1964年,其時因社會上的需要,開辦了葵涌診所及托兒所;此後,為應政府福利政策及社會需要而陸續拓展不同類型服務。目前福利服務包括幼兒服務、青少年服務、家庭服務及老人服務。
---
Aim
To actualize our belief through serving the community with the Love of Christ.
---
Services
Service Brief:
- Providing Elderly Services
- Providing Children & Youth Services
- Providing Family Services

Service Scope:
Child care service – Day creche, nursery
Children & youth service – Integrated children & youth service centre
Family service – Family services centre
Elderly service – Neighbourhood elderly centre, care & attention home for the elderly
---
Location
Report a problem
Reporting issues when they happen helps make HKNGO better.