Christian Action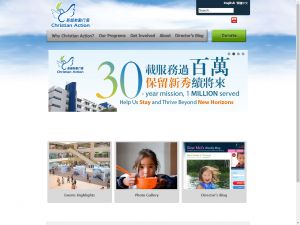 Website Screen Capture of Christian Action (http://www.christian-action.org.hk)
Tel : 23823339
Fax : 23620046
Address : 4/F, New Horizons Building, 2 Kwun Tong Road, Kwun Tong KLN
Web Address : http://www.christian-action.org.hk
E-mail Address : No related information
Nonprofit organization

Charitable institutions and trusts of a public character, which are exempt from tax under section 88 of the Inland Revenue Ordinance, are Nonprofit organizations.
Introduction
基督教勵行會成立於1985年,是香港註冊的慈善團體。我們的使命是幫助貧困、弱勢、被邊緣化和流離失所的社群,以及被遺棄的兒童,旨在帶給這些群體希望、尊嚴及自立能力。

我們的服務以耶穌基督作為榜樣,服務有需要的社群,不論其年齡、性別、國籍及宗教信仰,內容包括:

人道支援服務 – 為本港難民、外籍傭工、少數族裔、跨境家庭和新來港人士提供服務。此外,本會亦透過舉辦不同項目,幫助本港低收入家庭的兒童及青少年。

培訓課程 - 為基層和失業人士提供培訓,亦為需要企業的員工提供在職專業培訓,提升他們的質素。

人道支援服務 – 在青藏高原的青海省提供服務,包括與當地政府共同管理五間兒童福利院,其中一所是全省首間及唯一一所專為殘疾兒童而設的兒童康復中心;為貧困的藏民,興建寒屋、鄉村診所和學校,以及為貧困的農民,提供獎學金等。
---
Aim
Our mission is to serve those who are disadvantaged, marginalized, displaced or abandoned. Our aim is to give them hope, dignity and self-reliance. Our services are based on the example of Jesus Christ who came to serve all people, regardless of their age, gender, nationality and religion.
---
Services
Service Brief:
- Providing Children & Youth Services
- Providing Rehabilitation Services
- Providing Family Services
- Providing Community Development Services
- Providing Ethnic Minorities Services
- Providing New Arrivals & Cross-boundary Family Services
- Providing Other Services:
   難民服務Services to Refugees
Service Scope:
1. Integrated Services for New Arrivals
2. Refugees Programme
3. Domestic Migrant Workers Programme
4. Integrated Services for Ethnic Minorities
5. Ministry Coordination Service
6. Integrated Employment Assistance Scheme
7. Social Enterprise
8. Training Sservices
9. Poverty Alleviation and Children Homes in Qinghai, Mainland China
---
Location
Report a problem
Reporting issues when they happen helps make HKNGO better.