Ebenezer School and Home for the Visually Impaired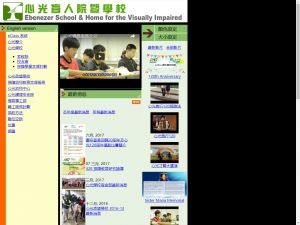 Website Screen Capture of Ebenezer School and Home for the Visually Impaired (http://www.ebenezer.org.hk)
Tel : 28176076
Fax : 28174355
Address : 131 Pokfulam Road, Pokfulam, HK
Web Address : http://www.ebenezer.org.hk
E-mail Address : No related information
Nonprofit organization

Charitable institutions and trusts of a public character, which are exempt from tax under section 88 of the Inland Revenue Ordinance, are Nonprofit organizations.
Introduction
No related information
---
Aim
Ebenezer is founded in the Christian faith. It aims to provide comprehensive educational, rehabilitation and recreational training in a residential setting for the visually impaired, intellectually disabled and elderly. Resource support program is rendered to students with visual impairment and with other disabilities in mainstream and special schools.
---
Services
Service Brief:
- Providing Elderly Services
- Providing Children & Youth Services
- Providing Rehabilitation Services
- Providing Other Services:
   提供教育服務 Providing Education Servies
Service Scope:
EBENEZER SCHOOL - provides mainstream school curriculum to visually impaired (VI) students supplemented by rehabilitative training. EBENEZER NEW HOPE SCHOOL - provides education and rehabilitative services to students with visual impairments cum intellectually disabled. EBENEZER CHILD CARE CENTRE - provides tailor-made educational training and rehabilitation programme to VI children. EBENEZER CARE & ATTENTION HOME - provides residential and nursing care to VI elderly. EARLY INTERVENTION PROGRAMME FOR VI CHILDREN - provides counseling, education & rehabilitati
---
Location
Report a problem
Reporting issues when they happen helps make HKNGO better.