Elderly Rights League (Hong Kong)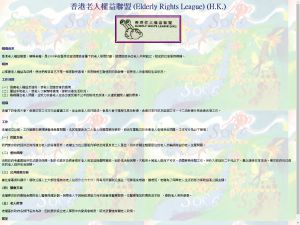 Website Screen Capture of Elderly Rights League (Hong Kong) (http://www.soco.org.hk/project/project031_c.htm)
Tel : 27139165
Fax : 27613326
Address : 3/F, 52 Princess Margaret Road, Ho Man Tin, KLN
Web Address : http://www.soco.org.hk/project/project031_c.htm
E-mail Address : No related information
Nonprofit organization

Charitable institutions and trusts of a public character, which are exempt from tax under section 88 of the Inland Revenue Ordinance, are Nonprofit organizations.
Introduction
(English version is not available)
香港老人權益聯盟,簡稱老權,是1991年由香港社區組織協會屬下的老人發展計劃,組織協助多位老人共同創立,組成的社會服務機構。
---
Aim
(English version is not available)
1. 推廣老人權益及福利,使老人認識自身的處境
2. 團結本地老人,使老人了解現時處境,謀取改善生活狀況。
3. 積極關注老人問題,並致力改善老人在各方面受著不公平的對待及歧視。以達致國際人權的標準。

---
Services
Service Brief:
- Providing Elderly Services
- Providing Family Services
- Providing Community Development Services
---
Location
Report a problem
Reporting issues when they happen helps make HKNGO better.