Everbright Concern Action Limited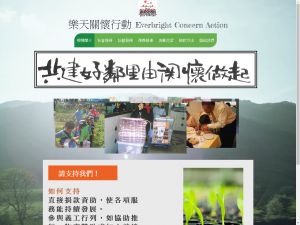 Website Screen Capture of Everbright Concern Action Limited (http://www.everconcern.org.hk)
Tel : 28109211
Fax : 28109377
Address : Flat 7, 10/F, Wah Wai Industrial Centre 38-40 Au Pui Wan Street, Shatin, NT
Web Address : http://www.everconcern.org.hk
E-mail Address : No related information
Nonprofit organization

Charitable institutions and trusts of a public character, which are exempt from tax under section 88 of the Inland Revenue Ordinance, are Nonprofit organizations.
Introduction
(English version is not available)
樂天關懷行動成立於2002年,為香港註冊的非牟利慈善團體。成立宗旨以服務社群為己任 ,關注被忽略的群體。透過服務,為有需要之弱勢社群提供適切的服務或經濟援助, 以期建立一個互相關懷及互助的社區。我們深信有愛的工作能使生命更添意義,故此,樂天關懷行動就在推動人類互愛的大前題下而誕生。
---
Aim
To serve the community and to care for the deprived group. Provide appropriate services and financial assistance to the disadvantaged groups through our services. We hope to build a mutually-concerned and beneficial community.
---
Services
Service Brief:
- Providing Elderly Services
- Providing Children & Youth Services
- Providing Family Services
- Providing Community Development Services

Service Scope:
Target group: Elderly, children and youth, middle-aged, single-parent family, low-income family and student, third world country. Service provided: Family service, elderly service, rehabilitation service, children and youth work, community work, social enterprise.
---
Location
Report a problem
Reporting issues when they happen helps make HKNGO better.