Friends of The Earth (HK) Charity Limited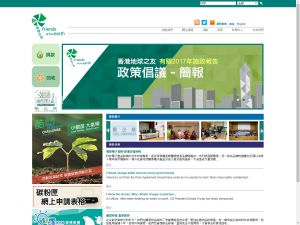 Website Screen Capture of Friends of The Earth (HK) Charity Limited (http://www.foe.org.hk)
Tel : 25285588
Fax : 25292777
Address : Room 1301-02, Block A, Sea View Estate, 2 Watson Road, North Point, HK
Web Address : http://www.foe.org.hk
E-mail Address : No related information
Nonprofit organization

Charitable institutions and trusts of a public character, which are exempt from tax under section 88 of the Inland Revenue Ordinance, are Nonprofit organizations.
Introduction
Friends of the Earth (HK) was established in 1983 as a charitable organization. It is one of Hong Kong's most prominent green groups.
---
Aim
A healthy and sustainable environment for all.
FoE(HK), as a leading environmental advocate:
Focuses on protecting our local and regional environment;
Offers equitable solutions to help create environmentally sustainable public policies, business practices and community lifestyles;
Engages government, business and community to act responsibly.

---
Services
Service Brief:
- Providing Family Services
- Providing Community Development Services

Service Scope:
Environment education and policy lobbying
---
Location
Report a problem
Reporting issues when they happen helps make HKNGO better.