Harmony House Limited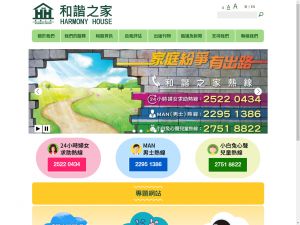 Website Screen Capture of Harmony House Limited (http://www.harmonyhousehk.org)
Tel : 23420072
Fax : 23047783
Address : Wing B, G/F, On Wah House, Lok Wah (South) Estate, Kwun Tong, KLN
Web Address : http://www.harmonyhousehk.org
E-mail Address : No related information
Nonprofit organization

Charitable institutions and trusts of a public character, which are exempt from tax under section 88 of the Inland Revenue Ordinance, are Nonprofit organizations.
Introduction
(English version is not available)
作為一所專門處理家庭暴力的非牟利社會服務機構,和諧之家一直致力為家暴受害人提供適切的輔導及治療服務,推廣和諧及健康的家庭關係。由1985年成立全港首間為受虐婦女及其子女提供服務的庇護中心開始,機構至今已發展成為一站式的家暴防治中心,服務包括預防性社區教育工作、受虐及施虐者輔導、兒童目睹家庭暴力輔導及親職技巧訓練。此外,機構亦為跨專業人士提供培訓,並倡議政策及法律的改革。
---
Aim
To promote harmony and healthy relationships in families by providing a comprehensive range of preventive and therapeutic services; To contact and reach out to families in need through counseling and crisis intervention; To change attitudes, impart knowledge and skills through community education.
---
Services
Service Brief:
- Providing Children & Youth Services
- Providing Family Services
- Providing Community Development Services

Service Scope:
Refuge for women and children victims of domestic violence,24-hour Women Crisis Hotline, Men Hotline, Children Hotline, counseling service for victims and batterers, therapeutic programs for children witnessing domestic violence, parenting empowerment programs, community education, professional training, research and advocacy, etc.
---
Location
Report a problem
Reporting issues when they happen helps make HKNGO better.