Hong Kong Anti-Cancer Society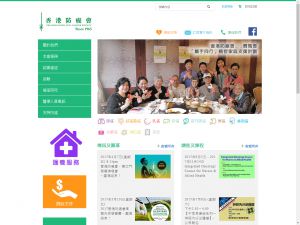 Website Screen Capture of Hong Kong Anti-Cancer Society (http://www.hkacs.org.hk)
Tel : 39213821
Fax : 39213822
Address : 30 Nam Long Shan Road, Wong Chuk Hang, HK
Web Address : http://www.hkacs.org.hk
E-mail Address : No related information
Nonprofit organization

Charitable institutions and trusts of a public character, which are exempt from tax under section 88 of the Inland Revenue Ordinance, are Nonprofit organizations.
Introduction
(English version is not available)
香港防癌會創立於1963年,一直致力推動各項防癌、治癌和抗癌工作,包括大眾及專業教育,並直接向病人提供醫療服務、藥物資助,及資助癌症硑究。
---
Aim
Oldest non-profit making anti-cancer organisation in Hong Kong. We have always been at the forefront of fighting against cancer and is committed to serving the people of Hong Kong.
---
Services
Service Brief:
- Providing Elderly Services
- Providing Rehabilitation Services
- Providing Other Services:
   心理社會支援, 慈善項目 Psycho-social support, charity programmes
Service Scope:
1. Cancer Education - conduct public health talks for general public as well as medical professionals publish education materials for free circulation;
2. Cancer Research - sponsor educational institutions carrying out research;
3. Cancer Detection and Prevention - publish guidelines;
4. Psycho-social spiritual care services; and
5. Charity programmes.
---
Location
Report a problem
Reporting issues when they happen helps make HKNGO better.