Hong Kong Association of the Deaf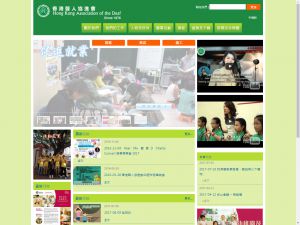 Website Screen Capture of Hong Kong Association of the Deaf (http://www.hongkongdeaf.org.hk)
Tel : 23272497
Fax : 31042497
Address : No. 109&111-118, G/F, Chi Mei House, Choi Hung Estate Wong Tai Sin KLN
Web Address : http://www.hongkongdeaf.org.hk
E-mail Address : No related information
Nonprofit organization

Charitable institutions and trusts of a public character, which are exempt from tax under section 88 of the Inland Revenue Ordinance, are Nonprofit organizations.
Introduction
(English version is not available)
香港聾人協進會(聾協)於1976年,由一班聾人義工成立。聾協是香港最大及歷史最悠久之由聾人管理之非牟利社會服務機構,提供全面社會福利、醫療及教育服務給聾人、弱聽人士、其家人,以及其他殘疾人士。聾協同時是世界聾人聯合會的香港代表,代表香港聾人出席本地、國內及國際聾人會議。
---
Aim
HKAD serves the Deaf and their families through the following missions:
1. Provision of Social Services alleviates Poverty;
2. Empowerment of the Deaf encourages Social Involvement;
3. Advocating Equality catalyzes Social Integration;
4. Promoting Deaf Education nourishes the Sign Language Development.
---
Services
Service Brief:
- Providing Elderly Services
- Providing Children & Youth Services
- Providing Rehabilitation Services
- Providing Family Services
- Providing Community Development Services

Service Scope:
1. Social and Recreational Services 2. Counseling Services 3. Sign Language Interpretation Service and Training 4. Adult Education Courses 5. Vocational Support Services 6. Community Activities/Education 7. International Exchange Activities for the Deaf 8. Computer Room Services 9. Volunteer Services
---
Location
Report a problem
Reporting issues when they happen helps make HKNGO better.