Hong Kong Chinese Church of Christ (Chung Chun) Limited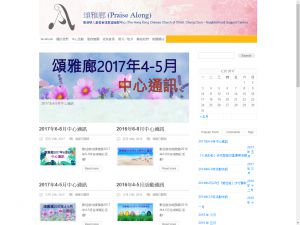 Website Screen Capture of Hong Kong Chinese Church of Christ (Chung Chun) Limited (http://www.chungchun.org.hk/praisealong/)
Tel : 26669255
Fax : 26621277
Address : G/F, Chung Chun House, Chun Nga Court, Tai Po, NT
Web Address : http://www.chungchun.org.hk/praisealong/
E-mail Address : No related information
Nonprofit organization

Charitable institutions and trusts of a public character, which are exempt from tax under section 88 of the Inland Revenue Ordinance, are Nonprofit organizations.
Introduction
(English version is not available)
香港華人基督會頌真堂於1991年10月成立,原址位於大埔頌雅苑頌真閣地下,因著當時社區的需要,我們藉著開辦『頌真幼稚園』培育新一代,並透過舉辦不同活動幫助社區建立和諧的家庭關係。隨着頌雅苑及富亨邨適齡兒童日漸減少,頌真幼稚園於2004年7月光榮結束辦學,頌真堂亦遷往頌雅苑對面的南坑村,一個富有郷村風味的村屋,雖然離開了10多年的地方,但本堂仍懷着關愛鄰舍的生命態度來繼續關懷富亨邨、頌雅苑及南坑村的居民。在神的恩典及帥領下,本堂已於2011年4月份搬返頌真閣開辦睦鄰中心,名為頌雅廊 (Praise Along) 展開服務社區新一頁。
---
Aim
We aim to bless the community and support needed people and families even leading them knowing God to get the abundant life.
---
Services
Service Brief:
- Providing Elderly Services
- Providing Children & Youth Services
- Providing Family Services
- Providing Community Development Services

Service Scope:
Our Neighborhood Support Centre Praise Along serves those residents from Chung Ngai Court, Fu Hang Eatate, Nam Hang Tsuen. Our core services include after school care class, children, youth, adult interest classes, leisure activities, volunteer training, care of soul, etc.
---
Location
Report a problem
Reporting issues when they happen helps make HKNGO better.