Hong Kong Council of the Church of Christ in China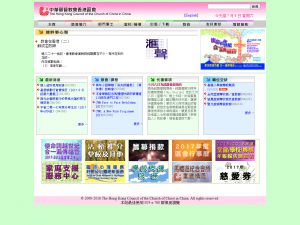 Website Screen Capture of Hong Kong Council of the Church of Christ in China (http://www.hkcccc.org)
Tel : 23971495
Fax : 27873949
Address : 191 Prince Edward Road West, Mongkok, KLN
Web Address : http://www.hkcccc.org
E-mail Address : No related information
Nonprofit organization

Charitable institutions and trusts of a public character, which are exempt from tax under section 88 of the Inland Revenue Ordinance, are Nonprofit organizations.
Introduction
No related information
---
Aim
Following the divine guidance of the Holy Spirit, HKCCCC is willing to share its manpower, financial resources, and vision with member churches to achieve its objectives of mission and service. Our main goal is always trying to be the most worthy witness for Christ and to render glory to God.
---
Services
Service Brief:
- Providing Children & Youth Services
- Providing Rehabilitation Services
- Providing Family Services
- Providing Community Development Services

Service Scope:
Special Child Care Centre, Family Support Services, Clinic Psychology Services, School Support Services, Kindergarten cum Child Care Centre.
---
Location
Report a problem
Reporting issues when they happen helps make HKNGO better.