Hong Kong Sheng Kung Hui Lady MacLehose Centre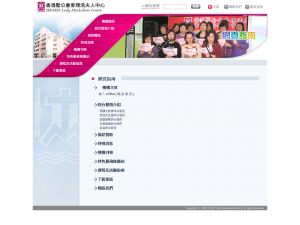 Website Screen Capture of Hong Kong Sheng Kung Hui Lady MacLehose Centre (http://www.skhlmc.org)
Tel : 2423 5265
Fax : 2481 5671
Address : 22 Wo Yi Hop Road, Kwai Chung, NT
Web Address : http://www.skhlmc.org
E-mail Address : No related information
Nonprofit organization

Charitable institutions and trusts of a public character, which are exempt from tax under section 88 of the Inland Revenue Ordinance, are Nonprofit organizations.
Introduction
(English version is not available)
香港聖公會麥理浩夫人中心自一九七三年十一月起,本著「非以役人,乃役於人」的基督精神,以「社區建設、社區照顧、社區健康、建立社會資本」服務設計綱領,為不同年齡居民提供多元化社會服務。
---
Aim
H.K.S.K.H. Lady MacLehose Centre is established as an expression of love of Jesus Christ to serve all persons and the Community at large with facilities and opportunities for personal, social, moral and spiritual development.
---
Services
Service Brief:
- Providing Elderly Services
- Providing Children & Youth Services
- Providing Family Services
- Providing Community Development Services
- Providing Ethnic Minorities Services
- Providing Career Development Service, Service for Disadvantaged (single parent, new arrivals, low-income families, residents of sub-divided unit and squatter).
Service Scope:
Integrated Services (Integrated Care and Education Service, Integrated Family and Community Service, Integrated Career Development Service, Integrated Services for the Elderly, Integrated Community Health Service)
---
Location
Report a problem
Reporting issues when they happen helps make HKNGO better.