Hong Kong Society for Rehabilitation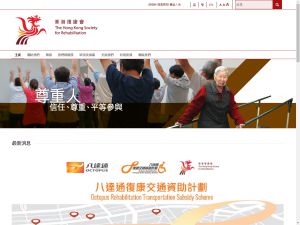 Website Screen Capture of Hong Kong Society for Rehabilitation (http://www.rehabsociety.org.hk)
Tel : 28559360
Fax : 28551947
Address : 1/F, HKSR Lam Tin Complex, 7 Rehab Path, Lam Tin, KLN
Web Address : http://www.rehabsociety.org.hk
E-mail Address : No related information
Nonprofit organization

Charitable institutions and trusts of a public character, which are exempt from tax under section 88 of the Inland Revenue Ordinance, are Nonprofit organizations.
Introduction
HKSR has established currently 30 service centres in Hong Kong and the Mainland China. In 2015-2016, we provided over 1.5 million units of responsive and quality services in Accessible Transport and Travel, Rehabilitation and Long Term Care for persons with disabilities, chronic illnesses, and older persons.
---
Aim
Through rehabilitation services for persons with disabilities and older persons, we advocate an inclusive society.
---
Services
Service Brief:
- Providing Elderly Services
- Providing Rehabilitation Services
- Providing Accessible Transport & Travel
Service Scope:
Accessible Transport & Travel: Rehabus, Accessible Hire Car, Easy-Access Transport Services, Easy-Access Travel; Rehabilitation : Community Rehabilitation Network, e2care Project, Self-Management Training & Development Centre, Patient Empowerment Programme, Centre on Health & Wellness, Cheng Tak Yim Day Rehabilitation & Care Centre, Vocational Rehabilitation & Retraining Centre, Supported Employment Services, Rehab Volunteers, The Kids on the Block; Long Term Care: Lee Quo Wei Day Rehabilitation & Care Centre, Tsang Shiu Tim Home for the Elderly, Hong Kong Jockey Club Shenzhen Society for Rehabilitation Yee Hong Heights; Social Enterprise: Elite Business Services, Wah Hong Convenience Store; International & China: China Projects, Internationa
---
Location
Report a problem
Reporting issues when they happen helps make HKNGO better.