Hong Kong St John Ambulance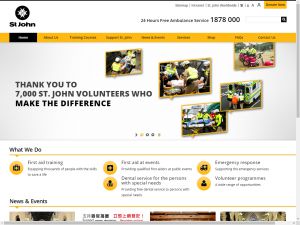 Website Screen Capture of Hong Kong St John Ambulance (http://www.stjohn.org.hk)
Tel : 25308008
Fax : 25150205
Address : St John Tower, 2 MacDonnell Road, Mid-levels, HK
Web Address : http://www.stjohn.org.hk
E-mail Address : No related information
Nonprofit organization

Charitable institutions and trusts of a public character, which are exempt from tax under section 88 of the Inland Revenue Ordinance, are Nonprofit organizations.
Introduction
Hong Kong St. John Ambulance is a charitable organization with a long history stretching back over a century and has been serving the community since 1884.

In Hong Kong, the St. John Ambulance Association was established in 1884, followed by the Ambulance Brigade in 1916 and the Council in 1949. Adhered to its motto, "For the Service of Mankind", the organisation is dedicated to provide First Aid and ambulance services in emergency, dental care for the elderly and patients with special needs, and courses of instructions on First Aid and Home Nursing for the general public.

Since its establishment, St. John in Hong Kong has been operating under the Order of St. John Ordinance Chapter 1047 in the laws of Hong Kong, and in accordance with the regulations given by St. John Headquarters in London with her Majesty the Queen as the Sovereign Head of the Order.

To facilitate a smooth transition for the services and operation of the St. John Council for Hong Kong after the sovereignty change over in1997 and to enable St. John in Hong Kong to exist as an independent organization free from the direction of the Order of St. John in United Kingdom, except for a fraternal relationship, a new Hong Kong St. John Ambulance Incorporation Ordinance (Chapter 1164) was enacted by the Legislative Council on 27 June, 1997. Under the new Ordinance, the old Council, the Association and the Brigade are now incorporated as a body corporate and have the new corporate name of Hong Kong St. John Ambulance, while the nature of the works of St. John remains unchanged.
---
Aim
Hong Kong St. John Ambulance is dedicated to promoting and encouraging all works of humanity and charity for the relief of distress, suffering, sickness and danger without any distinction as to race, class or creed.
---
Services
Service Brief:
- Providing Public First Aid Service, Ambulance Service, Dental Service, Health Care Promotion Projects & First Aid Training
Service Scope:
1. Public First Aid Service
2. 24-hour Emergency Ambulance Service
3. Non-emergency Ambulance Service
4. Dental Service for the handicapped/people with special needs
5. Community Service
6. Health Care Promotion Projects
7. Organize First Aid, Home Nursing, Health Care and allied courses, examinations & talks
---
Location
Report a problem
Reporting issues when they happen helps make HKNGO better.