Hong Kong Women Development Association Limited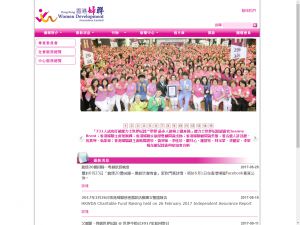 Website Screen Capture of Hong Kong Women Development Association Limited (http://www.hkwda.org.hk)
Tel : 26608100
Fax : 26610378
Address : Room 15, 16/F, Tuen Mun Parklane Square, 2 Tuen Hi Road, Tuen Mun, NT
Web Address : http://www.hkwda.org.hk
E-mail Address : No related information
Nonprofit organization

Charitable institutions and trusts of a public character, which are exempt from tax under section 88 of the Inland Revenue Ordinance, are Nonprofit organizations.
Introduction
(English version is not available)
「香港婦聯」於1996年成立,2000年獲稅局認可為慈善團體。以建立「自信、自尊、自立、自強」的意識;促進婦女發展;提升婦女質素;關注婦女及兒童權益;倡導婦女服務為宗旨,致力推動婦女工作。

本會設立6個專責委員會,推展會務,並由本會6個直屬社會服務單位聯同團體會員開設的60個社會服務單位,為弱勢社群提供多元化的社會服務。

「婦女發展」、「兒童及青少年支援服務」、「家庭支援服務」、「長者支援服務」、「新來港人士支援服務」及「膳糧行動(短期食物援助計劃)」為香港婦聯主要社會服務範疇,以關愛、服務、創新為理念。務求為婦女及居民提供協助,創造良好的社會環境,改善生活水平,促進香港邁向繁榮穩定。
---
Aim
Strengthen the concepts of confidence, self-esteem, and independence among women; Concern the rights of women and children; Raise the quality among women; Assist women to develop their potential & initiate various kinds of women's services.
---
Services
Service Brief:
- Providing Elderly Services
- Providing Children & Youth Services
- Providing Family Services
- Providing Community Development Services
- Providing New Arrivals & Cross-boundary Family Services

Service Scope:
Women Services, Employment Services
---
Location
Report a problem
Reporting issues when they happen helps make HKNGO better.