International Tin Lang Ministry Limited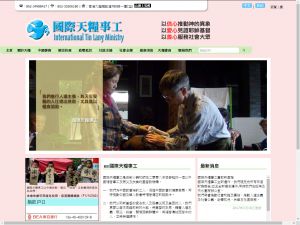 Website Screen Capture of International Tin Lang Ministry Limited (http://www.heavenlyfood.org)
Tel : 34683762
Fax : 34685112
Address : Room A, 12/F, Block 6, Lynwood Court Kingswood Villas, . Tin Shui Wai, NT
Web Address : http://www.heavenlyfood.org
E-mail Address : No related information
Nonprofit organization

Charitable institutions and trusts of a public character, which are exempt from tax under section 88 of the Inland Revenue Ordinance, are Nonprofit organizations.
Introduction
No related information
---
Aim
1. We are a Christian charity, love and serve the community with Jesus Christ, care and support some due to natural disasters, poverty and the aggrieved person and care for some of the abandoned children;
2. We implement humanitarian aid for natural disasters put someone suffering;
3. We pursue social justice and fairness, so that everyone should have the dignity;
4. We oppose the disparity in support of vulnerable groups and parties, deserve the rights and welfare of the community;
5. We oppose any discriminatory remarks and actions, for disabled people and children, should be given due protection Zhi and rights.
---
Services
Service Brief:
- Providing Elderly Services
- Providing Children & Youth Services
- Providing Family Services
- Providing Community Development Services

Service Scope:
1. Raising Mainland orphans or children
2. Emergency Relief
3. To support the underprivileged
4. Poverty Poverty
5. Community Support
6. Gambling Rehabilitation
7. Hong Kong Poverty Release Campaign
---
Location
Report a problem
Reporting issues when they happen helps make HKNGO better.