Baby Kingdom Environmental Protection Education Fund Limited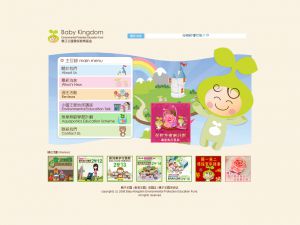 Website Screen Capture of Baby Kingdom Environmental Protection Education Fund Limited (http://www.baby-kingdom.org)
Tel : 21373811
Fax : 21031340
Address : 1/F, Houtex Industrial Building, 16 Hung To Road, Kwun Tong, KLN
Web Address : http://www.baby-kingdom.org
E-mail Address : No related information
Nonprofit organization

Charitable institutions and trusts of a public character, which are exempt from tax under section 88 of the Inland Revenue Ordinance, are Nonprofit organizations.
Introduction
(English version is not available)
親子王國環保教育基金 「親子王國環保教育基金」於2008年4月成立,致力親子教育和支援,深信良好的親子關係能促進孩子的成長發展和開創美好的將來。為了進一步伸延這個使命,讓 下一代能於健康環境成長,親子王國環保教育基金希望透過推動環保教育,讓孩子 從小開始關注生態,並從小做起參與保護環境。

親子王國有限公司是環保基金的其一創辦人,透過基金將邵分收益用作捐獻以支持多個環保社 區的教育項目及活動。親子王國環保教育基金,近年積極舉辦各類教育活動,例如:巡迴全港 小學的「小國王愛地球講座」、環保小貼士創作比賽、活化舊書大行動及校園自然閣資助計劃等。
---
Aim
'Baby Kingdom Environmental Protection Education Foundation', aiming through a variety of activities, including: green campus talk, workshops, online activities and parenting activities ... Foster children to build up the responsible & correct values, as well as cherish the ecological resources, creating a sustainable living environment for our next generation.
---
Services
Service Brief:
- Providing Family Services
- Providing Community Development Services

Service Scope:
Organize school tour to enhance the environmental protection messages, parenting workshop, visiting and online education. Also held the yearly iconic event 'Baby Charity Walkathon'
---
Location
Report a problem
Reporting issues when they happen helps make HKNGO better.