Crossroads Foundation Limited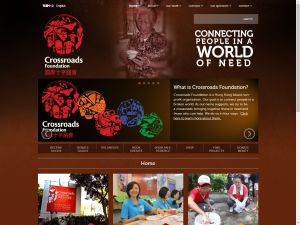 Website Screen Capture of Crossroads Foundation Limited (http://www.crossroads.org.hk)
Tel : 29849309
Fax : 27711715
Address : Crossroads Village, 2 Castle Peak Road, Tuen Mun, NT
Web Address : http://www.crossroads.org.hk
E-mail Address : No related information
Nonprofit organization

Charitable institutions and trusts of a public character, which are exempt from tax under section 88 of the Inland Revenue Ordinance, are Nonprofit organizations.
Introduction
We never meant to start Crossroads. We believed the world had enough worthy causes. Rather than begin another, we decided to help those already in existence. We couldn't stop Crossroads from starting, though, and, now, can't stop it from growing. Here's the story.

For years, we were sure we wouldn't start an NGO. Our goal was to use our training to help those already doing a good thing in a hard place. Malcolm, a chartered accountant, volunteered financial services. Sally, a public relations consultant, gave pro bono communications services. Put another way, we used words and numbers to serve those in need.
---
Aim
Crossroads foundation is a Hong Kong based non profit organization. Our goal is to connect people in a broken world.
---
Services
Service Brief:
- Providing Elderly Services
- Providing Children & Youth Services
- Providing Family Services
- Providing Community Development Services

Service Scope:
GLOBAL DISTRIBUTION: Where need meets resource;GLOBAL HAND: Partnering for a better world; GLOBAL X-PERIENCE: Stepping into another's shoes GLOBAL HANDICRAFTS: Fair trade for a fairer world
---
Location
Report a problem
Reporting issues when they happen helps make HKNGO better.