Hong Kong Alliance of Patients' Organizations Limited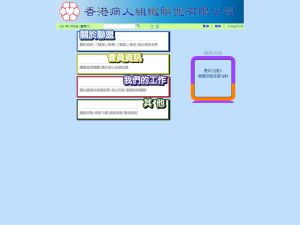 Website Screen Capture of Hong Kong Alliance of Patients' Organizations Limited (http://www.hkapo.org.hk)
Tel : 23046371
Fax : 30116893
Address : c/o G/F, Wang Lai House, Wang Tau Hom Estate, Lok Fu Kowloon
Web Address : http://www.hkapo.org.hk
E-mail Address : No related information
Nonprofit organization

Charitable institutions and trusts of a public character, which are exempt from tax under section 88 of the Inland Revenue Ordinance, are Nonprofit organizations.
Introduction
(English version is not available)
香港病人組織聯盟(前身為病人互助組織聯盟,成立於1993年),是由數十個不同病類的長期病患者自助組織所組成的聯合體,涵蓋的病類包括:腦科疾病、精神科、眼科疾病、心臟科疾病、呼吸系統科疾病、循環系統疾病、風濕科疾病、血液科疾病、免疫系統疾病、消化系統疾病、內分泌系統疾病、泌尿科疾病、肢體傷殘、以及癌症等等。
---
Aim
To collaborate with relevant government departments, service providers, professional organizations and stakeholders in the business sector to actualize "Patient-Centered Healthcare".
---
Services
Service Brief:
- Providing Rehabilitation Services
---
Location
Report a problem
Reporting issues when they happen helps make HKNGO better.