Hong Kong Buddhist Society for the Blind Limited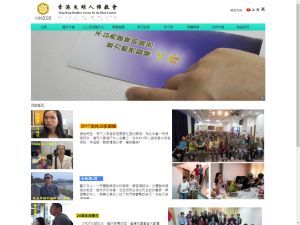 Website Screen Capture of Hong Kong Buddhist Society for the Blind Limited (http://www.hkbsb.org.hk)
Tel : 31151123
Fax : 31151199
Address : Room 176, 4/F, Man Yui Building, 172-176 Cheung Shan Wan Road Sham Shui Po, KLN
Web Address : http://www.hkbsb.org.hk
E-mail Address : No related information
Nonprofit organization

Charitable institutions and trusts of a public character, which are exempt from tax under section 88 of the Inland Revenue Ordinance, are Nonprofit organizations.
Introduction
(English version is not available)
香港失明人佛教會本著「肉眼無明,苦止一生;慧眼無明,解脫何期?」之理念,於1995年成立,為非牟利慈善團體,是現時全球唯一粵音點字佛經製作中心和香港唯一專為視障人士服務的佛教組織。
現時全港有十七萬多名視障人士,因意外、白內障、糖尿病眼、青光眼、視網膜脫落及黃斑點病變等,而導致全失明或弱視。我們希望視障朋友,不會因為喪失了視力,更而喪失接觸佛法的機會。因此本會致力以聲音和點字作為媒體,為視障人士提供修習佛法的途徑,藉著佛法引導,燃亮起智慧心燈,為失明人帶來內心光明。
---
Aim
Established in 1995 and registered as non-profit charity association, HKBSB is the only Buddhist society in Hong Kong helping the blind and those visually impaired. Apart from helping their problems of handicapped,we provide a platform to enhance their physical and emotional health, enabling them to lead a positive life.
---
Services
Service Brief:
- Providing Rehabilitation Services

Service Scope:
Production of braille books of Buddhist scriptures and audio readings; 24-hours hotline as a platform to provide health information for the body and mind; Meditation centre for the blind; Promoting the PHAB (Physically Handicapped and Able-Bodied) integrative concept by frequent visits to the elders blind.
---
Location
Report a problem
Reporting issues when they happen helps make HKNGO better.