Hong Kong Down Syndrome Association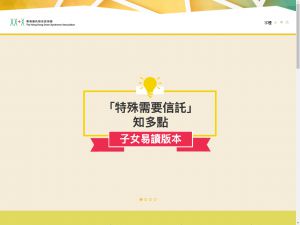 Website Screen Capture of Hong Kong Down Syndrome Association (http://www.hk-dsa.org.hk)
Tel : 26975391
Fax : 26924955
Address : Room 103-106, G/F, Wing Shui House Lek Yuen Estate, Shatin, NT
Web Address : http://www.hk-dsa.org.hk
E-mail Address : No related information
Nonprofit organization

Charitable institutions and trusts of a public character, which are exempt from tax under section 88 of the Inland Revenue Ordinance, are Nonprofit organizations.
Introduction
(English version is not available)
香港唐氏綜合症協會於一九八七年正式註冊為非牟利慈善團體,致力為唐氏綜合症人士、智障人士、其他殘疾人士及其家人提供綜合家庭支援及職業復康服務。我們相信這些人士應享有一切基本的權益和平等的機會,並得到社會的接納和支持,至為重要。
協會多年來一直堅守為會員及各服務使用者提供優質和適切服務的理念,持續不斷地改善優化服務質素,使他們在個人成長及生活各方面,得以全面發展。經過多年的努力,不少服務項目已有顕著成效。協會自負盈虧的唐家軒為不同年齡的唐氏會員提供多元化的活動、興趣班、訓練小組和輔導跟進。此外,唐家軒及白普理家長資源中心更提供多方面的家庭支援,包括個案跟進、家長小組、關懷網絡等。在職業復康方面,協會努力擴展僱主網絡,發展社企業務,並提供不同的職業訓練,協助會員自力更生。我們更積極聘用殘疾人士,協會現有30多位殘疾僱員於各單位和社企工作。
---
Aim
To improve the quality of life of persons with Down Syndrome and other disabilities and their families.
---
Services
Service Brief:
- Providing Rehabilitation Services

Service Scope:
Our scope of services has mainly focused on two streams:- First, we provide Integrated Family Support Services for families of children with Down syndrome and other disabilities as well as enhancing individual growth and development of the children with special needs. Secondly, we develop Integrated Vocational Rehabilitation Services which provides a "through-train service" to meet the vocational training and job placement needs of our service users. In recent years, we have established a wide variety of Social Enterprises with an aim to provide more vocational training and employment opportunities for our service targets and to promote the concept of "Social inclusion".
---
Location
Report a problem
Reporting issues when they happen helps make HKNGO better.