Hong Kong Employment Development Service Limited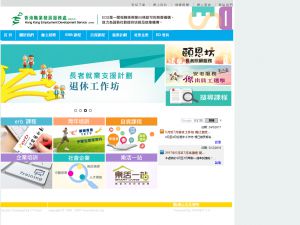 Website Screen Capture of Hong Kong Employment Development Service Limited (http://www.hkeds.org)
Tel : 23266805
Fax : 23296112
Address : Room 101-106, G/F, Lung Wah House, Lower Wong Tai Sin (I) Estate, Wong Tai Sin, KLN
Web Address : http://www.hkeds.org
E-mail Address : No related information
Nonprofit organization

Charitable institutions and trusts of a public character, which are exempt from tax under section 88 of the Inland Revenue Ordinance, are Nonprofit organizations.
Introduction
(English version is not available)
香港職業發展服務處是一間非牟利及稅務條例第88條認可的慈善機構。致力為弱勢社群提供專業、多元化的 就業輔導及培訓服務。在2011年4月至2012年3月期間,有3千多名有就業困難的市民參與相關服務及課程。

本處成立前為香港社會服務聯會(社聯)屬下的職業輔導社,在2002年中註册成為獨立機構,並於2003年4月 起接管社聯職業輔導社的工作及服務單位。社聯職業輔導社有四十多年為弱勢社群提供服務的經驗,主要 為受感化青年、新來港人士、年長僱員等提供職業輔導及培訓服務。
---
Aim
(English version is not available)
1. 為有就業需要人士提供高質素的職業輔導、工作選配及就業培訓等服務;
2. 為僱主介紹合適的員工;
3. 協助各行各業拓展人力資源。
---
Services
Service Brief:
- Providing Elderly Services
- Providing Children & Youth Services
- Providing Ethnic Minorities Services
- Providing New Arrivals & Cross-boundary Family Services
- Providing Other Services:
   就業及培訓服務Employment & Training Services
Service Scope:
To provide quality employment counseling, job matching and placement service and training programmes; To recommend suitable employees to employers of difference trades and industries To offer consultancy service on developing human resources in different trades and industries.
---
Location
Report a problem
Reporting issues when they happen helps make HKNGO better.