Hong Kong Joint Council of Parents of the Mentally Handicapped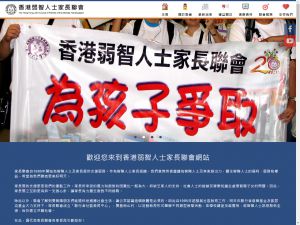 Website Screen Capture of Hong Kong Joint Council of Parents of the Mentally Handicapped (http://www.hkjcpmh.org.hk)
Tel : 27788131
Fax : 27788939
Address : Unit 21-24, G/F, Nam On House, Nam Shan Estate, Sham Shui Po KLN
Web Address : http://www.hkjcpmh.org.hk
E-mail Address : No related information
Nonprofit organization

Charitable institutions and trusts of a public character, which are exempt from tax under section 88 of the Inland Revenue Ordinance, are Nonprofit organizations.
Introduction
(English version is not available)
家長聯會自1986年開始為智障人士和家長提供支援服務。作為智障人士家長組織,我們責無旁貸持續為智障人士及其家庭出力,關注有關智障人士福利、服務和權益,為他們建造更美好明天。

家長間的支援更是我們的重點工作。家長所承受的壓力和面對的困難比一般為大,如缺乏家人的支持、社會人士的接納及專業知識去處理智障子女的問題。因此,家長間之互助更有如一支強心針,讓家長有力量去面對明天。

除此以外,聯會了解到要智障朋友們能愉快地適應社會生活,社區教育讓公眾認識這個群體是必須的。因此自1995年起發展社區教育工作,同年得到毅行者慈善基金及凱瑟克基金大力支持,家長聯會成立 毅行者社區教育中心,奠基南山村,以流動教育隊形式舉辦不同類型活動,如學校講座及展覽等,將智障人士訊息散佈全港,旨於建立更融和社會。
---
Aim
1.To concern and pursue the welfare and services for mentally handicapped people. 2.To promote mutual aid among parents. 3.To educate the public and to raise awareness and acceptance to wards people with mental handicap.
---
Services
Service Brief:
- Providing Rehabilitation Services
- Providing Family Services
- Providing Community Development Services

Service Scope:
N/A
---
Location
Report a problem
Reporting issues when they happen helps make HKNGO better.