Hong Kong Women Workers' Association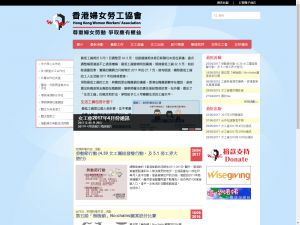 Website Screen Capture of Hong Kong Women Workers' Association (http://www.hkwwa.org.hk)
Tel : 27904848
Fax : 27904922
Address : 1-3A, G/F, Tsui Ying House, Tsui Ping South Estate, Kwun Tong, KLN
Web Address : http://www.hkwwa.org.hk
E-mail Address : No related information
Nonprofit organization

Charitable institutions and trusts of a public character, which are exempt from tax under section 88 of the Inland Revenue Ordinance, are Nonprofit organizations.
Introduction
(English version is not available)
香港婦女勞工協會(下稱女工協會),是一個註冊的非牟利團體,成立於1989年,以組織勞動婦女為目標、爭取婦女勞動權益為宗旨,並與婦女共同開創發展空間。在女工會字典中,〝婦女勞工〞包括從事有薪酬勞動的婦女和從事無酬家務勞動的主婦。
---
Aim
1. To unite and organize female workers to participate in overall development; 2. To develop awareness among women workers of their needs, problems skills potentials and contribution; 3. To empower women in dealing with their needs and problems; 4. Collect information and advocacy for better policies
---
Services
Service Brief:
- Providing Family Services
- Providing Community Development Services

Service Scope:
1.Setting up Women cooperative to explore alternatives to address women's economic need and to restore their dignity 2.Organizing vulnerable women workers, e.g. cleaning worker, new-immigrant, low-income women and part-time 3. Organizing study workshop and skill training for women 4. Hotline enquiry service to provide information, advice support concerning employment and women rights issue 5. Women Resource Centre to provide space for women workers to share experiences.
---
Location
Report a problem
Reporting issues when they happen helps make HKNGO better.