HOPE worldwide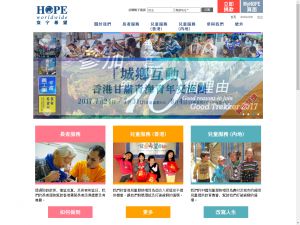 Website Screen Capture of HOPE worldwide (http://www.hopeww.org.hk)
Tel : 25881291
Fax : 25881306
Address : 1-6A, G/F, Tung Fai House, Tai Hang Tung Estate, Shek Kip Mei, KLN
Web Address : http://www.hopeww.org.hk
E-mail Address : No related information
Nonprofit organization

Charitable institutions and trusts of a public character, which are exempt from tax under section 88 of the Inland Revenue Ordinance, are Nonprofit organizations.
Introduction
HOPE worldwide established the affiliate in Hong Kong in 1993 to serve the poor in Hong Kong and China. The affiliate is incorporated under the Companies Ordinance and obtained tax-exempt status as a charity from the Inland Revenue Department (Ref No. 91/3798). Currently, our programmes serve vulnerable elderly, underprivileged children and youth in Hong Kong, and also poor children in rural communities and urban areas in China.
---
Aim
HOPE worldwide is an international Christian charity that brings people and communities together to deliver sustainable and high-impact education and health services to the poor and needy.
---
Services
Service Brief:
- Providing Elderly Services
- Providing Children & Youth Services
- Providing Family Services
- Providing Community Development Services
- Providing New Arrivals & Cross-boundary Family Services

Service Scope:
1. Elderly Programme - helps Hong Kong's single elderly people age healthily and with dignity through our Fall Prevention, Fulfill a Wish, and Volunteers for Seniors Day programmes. 2. Hong Kong Children's Programme - gives children from low-income families the opportunity to reach their potential and break the cycle of inter-generational poverty through academic enhancement and character education. 3. China Children's Programme - helps the rural and urban poor break the cycle of poverty by giving them the gift of education.
---
Location
Report a problem
Reporting issues when they happen helps make HKNGO better.